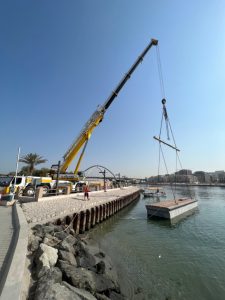 We are proud to partake in this first attempt to keep Deira Island beaches and marine edges clean and presentable. Deira island is one of the largest islands found within the Dubai Coastline, and this adds to the privilege and esteem we get to experience being part of this project.
This project aims to ensure cleanliness for the Deira islands' marine edges, including the beaches, breakwaters, quay walls, revetments, and the entire island area.
We will use our unique beach cleaning machine to clean the beaches efficiently and effectively.
Waagner Biro Bridge Gulf LLC is determined and dedicated to ensuring that the UAE is the best it can be, not only for those who live there but for all those who come to enjoy the beauty of this country. Keeping the environment, such as the beaches and islands, clean and presentable is crucial for conserving and preserving these areas because they must be protected so that future generations can enjoy them too.